Publicado por Roe Smithson & Asociados Ltda in Santiago Chile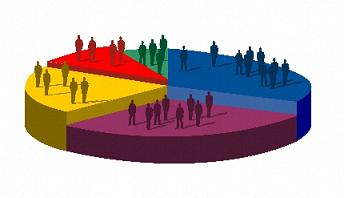 Market segmentation is the process of partitioning markets into groups of potential customers with similar needs or characteristics who are likely to exhibit similar purchase behavior. Market segmentation is widely defined as being a complex process consisting in two main phases:
Identification of broad, large markets
Segmentation of these markets in order to select the most appropriate target markets and develop Marketing mixes accordingly
A three-step process is used to develop a market segmentation strategy:
 
Segment Identification — determining a given number of homogeneous market segments based on selected segmentation variables and criteria. Segments should be customer-focused, a justifiable size, distinguishable, accessible, accountable & profitable.
Market Selection — selecting one or more groups to target for marketing activity. It is impossible to pursue every market opportunity so you must make strategic choices based on customer needs, competitive opportunities, corporate objectives, and your firm's financial, technical & marketing resources.
Positioning — carving out a market niche for your firm. This may be accomplished by searching out unique marketing advantages, seeking new market segments that competitors are not cultivating, or developing new approaches to old problems. Your positioning should be based on a real (e.g., lower cost, superior quality) or intangible (e.g., company reputation) competitive advantage.
 
Market segmentation analysis and strategy offers major benefits, such as:
Designing responsive products to meet the needs of the marketplace
Developing effective and cost-efficient promotional tactics & campaigns
Gauging your company's market position — how your company is perceived by its customers and potential customers relative to the competition
Fine-tuning current marketing strategies
Market segmentation is one of the most powerful strategies a company can use to improve profit margins and ultimately gain market share. And when markets are flat or declining and differentiation is at a premium, creative segmentation strategy can mean the difference between survival and road-kill.
Roe Smithson & Asociados Ltda is aware a key factor to success in today's market place is finding subtle differences to give the business a marketing edge, so we offer you trustworthy services on marketing studies.