Welcome to Roe Smithson & Asociados Ltda. Bilingual (English/Spanish) Marketing consultants and Market Research company with broad experience mainly in Chile and in other countries of South America as well in Marketing Intelligence, Market Research in Latin America, Blind Client in Chile, Marketing Plan, Marketing Intelligence in Latin America, Focus Group, Data Base Development in Latin America, Market segmentation, Market research in Latin America and other marketing research techniques. We are leaders in providing Market Segmentation and Market Research in Latin America services for your business.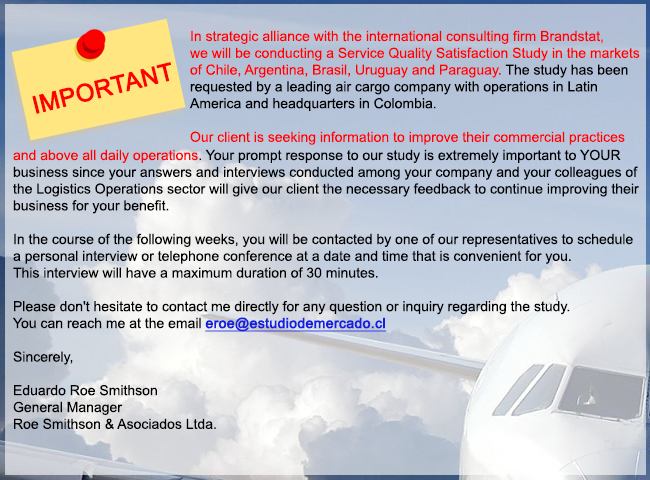 We count on an excellent professional reputation as a marketing consultants, market research, market segmentation, focus group, marketing consultants and business counseling company because of our efficiency on:
1.- Immediate and proper attention to our customer's requests by our Marketing Consultants
2.- Response to the e-mails we receive in a 24-hour period
3. Providing professional solutions to our customers' needs related to market research in English and/or Spanish
4. Handing over easy reading and processing forms with solutions
5. Presentation of competitive solutions including a Marketing Plan
6. Carrying out a transparent, really helpful high level professional work as Marketing Consultants
7. Presentation of high quality reports in required forms containing results related to the market research and marketing intelligence
8. Finishing the agreed project looking forward to continuing working along with the customer.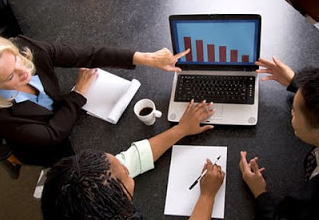 Roe Smithson & Asociados Ltda, Marketing consultants, is a market research company and a bilingual market investigation consultant offering qualitative market research as well as quantitative market research in South America, Focus Group and Marketing Intelligence throughout Chile, and also in Lima –Peru, Santa Cruz –Bolivia, Sao Paulo – Brazil, Bogotá -Colombia, Montevideo –Uruguay and Buenos Aires –Argentina.
The qualitative market research and quantitative market research carried out by our market research company, marketing consultants, and market investigation consultant include the following activities among others:
A. One-on-one, in-depth interviews to professionals of all entrepreneurial and hierarchic levels conducted by journalists and psychologists with broad experience in market research and with a busy social activity.
B. Telephone interviews to professionals of all hierarchic levels and all type of companies by means of CATI method and/or using paper and pencil. Read more…
C. Recruitment and selection of personnel among a variety of groups of age, gender, professional and entrepreneurial profile for conducting on-line surveys, personal interviews and/or participation on focal groups sessions that might report definite results to our market research company
D. Focus groups with specialized personnel/technology for various groups of certain ages, professional profiles and socio economical level in a Gessel chamber and/or focus group room • Focus Group in Chile
E. Mystery shopping in retail and/or wholesale sales points and Blind Client in Chile with access to hidden cameras that record important behaviors for a market research company and to develop a Retail Research Study KPI. Read more…
F. Audit and monitoring of sales points and evaluation of products layout and services quality at the sales points with access to hidden cameras
G. Surveys or interviews in public places such as cafeterias with high flow of people of various professional profiles and groups of certain age
H. Market penetration and/or competitive intelligence through the analysis of productive procedure, of purchase and sale of the companies being studied by our market research company
** In order to guarantee efficiency on market research Roe Smithson & Asociados Ltda is a market research in Chile company that has and counts on a group of capable professionals in charge of carrying out, upon the customers' request, strategic marketing activities (strategic marketing studies) including the following:
1.- Direct marketing and e-mail marketing, Market Research in Chile
2.- Media letters and products' launching – Market Penetration
3.- Creation of a database for each market segment of companies and key positions read more…
4.- Promotion of services and sales of products in public places and private sectors
5.- Supervised telephone sale and customers' satisfaction
6.- Strategic Geomarketing and location of strategic sales points
7.- Creation of periodic marketing information by qualified Marketing Consultants
8.- Data Base Development / Market segmentation
9.- Final Report Development of the results of Market Research in Sudmerica
Contact Us your leading Marketing Research firm in South America for the latest techniques in Market Research in South America including Blind Client in Chile, Data Base Development in South America, Focus Group in Chile, Blind Client in Chile and Market Segmentation
Marketing plan • Focus Group in Chile • Blind Client in Chile • Marketing Intelligence • Marketing research in South America • Marketing Consultants
<<< FOR FURTHER DETAILS ABOUT OUR MARKETING CONSULTANTS, MARKET RESEARCH, FOCUS GROUP, BLIND CLIENT, MARKET SEGMENTATION CLICK HERE >>>